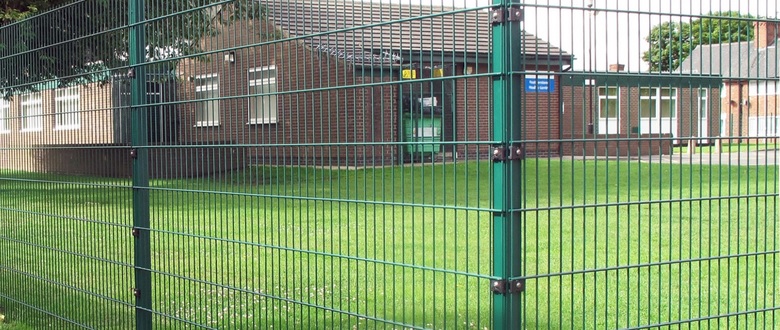 Mesh 656 Security Fencing Overview
Emerald Fencing mesh 656 is a welded mesh fencing system similar to its sister product mesh 868. Featuring a distinctive appearance which allows excellent through vision, making it suitable for many applications. This product is a special manufacture item and is available in large quantities only.
The mesh 656 fencing panel features twin galvanised horizontal rods 6mm in diameter, positioned either side of a 5mm diameter vertical wire.
The panels are welded at the intersection points and offer a superior degree of resistance to impact damage or vandalism to the fence line.
One edge of the panel is finished flush, while the vertical wires extend 30mm from the other edge to form a barbed top. This type of top produces a simple and effective deterrent to climbing.
Alternatively, the barbed edge may be positioned at ground level in situations where a flush top is required.
Posts for mesh 656 are positioned at 2.525m nominal centres and feature factory-fitted inserts. Mesh fencing panels are attached by means of robust steel fixing brackets and M8 diameter tamper-resistant fixings. This method of fixing ensures rigid reinforced fixing and the tamper-resistant pin provides a reliably secure fixing between the fence panel and the support post.
Standard stock heights include: 1.23m, 1.83m and 2.43m. For special applications we can also provide 3.03m high to order.
Emerald Fencing mesh 656 has been designed for ease of installation, following level or uneven ground with ease and simplicity.
The range is available in three formats, offering differing levels of protection for boundary, demarcation and anti-intruder functions. The latter systems have vertical or cranked extensions fixed to the posts to support 3 rows of barbed wire or barbed tape.
The finish of mesh 656 includes a galvanised substrate and polyester powder coating in a range of standard colours.
For quotations and Mesh fencing prices for our mesh 656, (fencing products are usually sold per metre) please contact Emerald Fencing sales department.
Typical applications include: schools, colleges and universities; many local authorities specify 656 for use around car parks and vehicle storage areas.
For More Information Call Emerald Fencing
.
Other Product Features
RAL Colour chart- Optional powder coating can customise a gate into your own corporate colours. A RAL Colour chart can be found under our resources section for your reference.